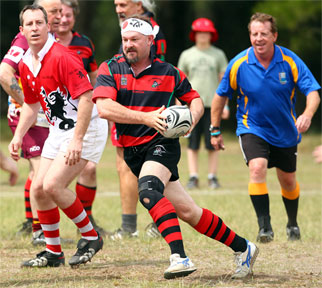 About the Old Tasmanian Devils
The Old Tasmanian Devils are a collection of (Tasmanian) rugby players who come together every 2 years to participate in the International Golden Oldies Rugby Festivals. We are from all parts of Tasmania and even a few immigrants from the 'North Island'.
With each festival, the Old Tasmanian Devils greet 'virgins' into their side – no not the desirable kind, young, fresh and eager to experience the ways of the world – but rather former rugby players or just the curious eager to find out why a bunch of old blokes want to get together every couple of years and go off to try and prove they should know better than to pull on boots and play the game. It is this influx of new players who quickly become part of the Old Tassie Devils family and this influx helps to keep the spirit and fraternity of the club going.
The camaraderie within the club isn't just contained to the sporting field but also off it as well. The Old Tassie Devils are best known for the fact that their passion for rugby is only surpassed by their passion for the social aspects of the game – something which has endeared the side to all who have come to know them (expect for the Kiwi Old Devils side which tends to get blamed for a lot of things they may not have done).
It doesn't matter where you come from – the Tasmanian 'mainland' or the 'outer island' (across Bass Straight) or even further a field, once you've had a taste of the Tassie spirit, it WILL bring out the devil in you!
So what are you waiting for? Come and find out about the "Las vegas Bar"
The Old Tasmanian Devils Song
A lot can be leant about a Rugby team by its song. The Old Tasmanian Devils song is sung to the tune of "The Wild Colonial Boy" and the words can be viewed here (Language Warning!)